What You Need to Know
Well-maintained trees provide many benefits to your property, but poorly maintained trees can be a significant liability. Arborists specialize in the care and maintenance of individual trees, but there are some things to consider before hiring a company. Professionals who are specifically trained to work safely in trees should be the only ones performing work on trees.
Services that Arborists Provide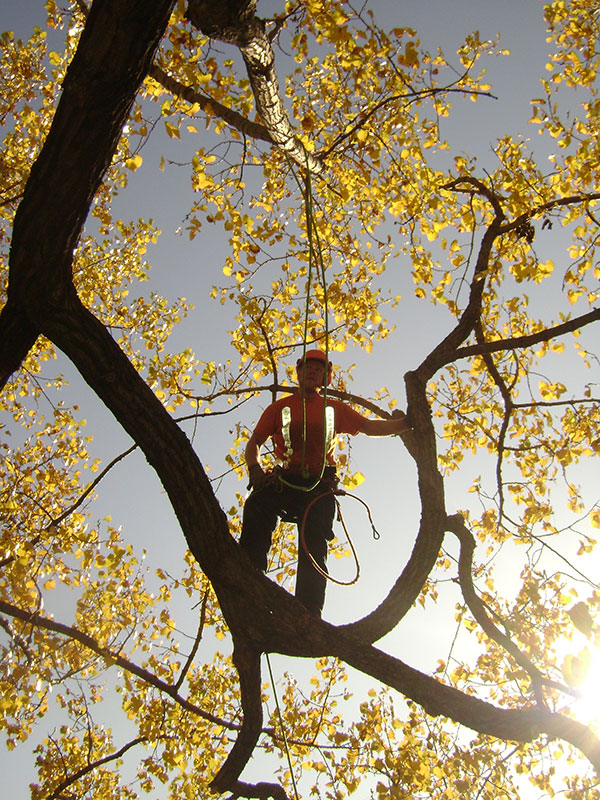 Services vary among companies, but in general, arborists can provide the following services:
Pruning for tree health, maintenance, or safety;
Tree removal and/or stump grinding;
Emergency tree care and/or tree care around power lines;
Tree planting;
Pest/disease diagnosis and treatment;
Risk mitigation;
Soil amendments and aeration;
Consulting and legal services relating to trees.
Credentials
In Manitoba, an arborist must have at least one of the following credentials to practice Arboriculture (The Forest Health Protection Act, 2018):
Hold and maintain arborist certification from the International Society of Arboriculture (ISA);
Have in their possession a previously issued Manitoba Arborists Licence that was valid after October 1, 2017;
Have proof of completing the Manitoba Arborists Training Course from the University of Manitoba before July 1, 2019.
ISA Certified Arborists have achieved a measurable level of knowledge in the art and science of tree care. These professionals have hands-on experience and successfully passed a comprehensive exam (developed by leading tree care experts). ISA Certified Arborists also continue their education to maintain their certification and are more likely up to date on the latest treatments and techniques.
The ISA also offers membership to anyone in the tree care industry, including students in forestry or related fields. No exam is required for membership, and membership is not the same as a certification.
Insurance
In Manitoba, there is no agency regulating that an arborist has obtained liability insurance. Without insurance, the homeowner could be held liable for any damage to the property, injury or damage to a third party, or injury to the arborist. It is the homeowner's responsibility to ask an arborist for proof of liability insurance and phone their insurance company if you are not satisfied.
Ready to Find an Arborist?
As prices and services vary among companies, we recommend getting quotes from at least 3 different companies. The International Society of Arboriculture (ISA) publishes a list of all ISA Certified Arborists for your area. On the phone or in person, keep track of your questions and compare companies using our printable checklist as a guide