Trees Winnipeg's Arbor Day
Come join us for Arbor day on Saturday - June 3rd, 2023 at Crescent Drive Park.

Arbor Day is Tree Winnipeg's annual one-day event that takes Winnipeg's reputation for its beloved urban canopy to new heights in the city's largest public event dedicated to trees.
Sign up to volunteer! Volunteer Form - Click here


Trees Winnipeg is thankful for the support every year of the International Society of Arboriculture (ISA) Prairie Chapter. Every year, you can follow our Arbor Day activities at #arbordaywpg
Activities for Everyone at Arbor Day
Taking place on Saturday June 3rd, from 10:00 am to 4:00 pm people of all ages can take tree rides, such as climbing, and rising above the tree canopy in a bucket. Many of the region's best tree experts, including ISA-Certified Arborists, are on-hand to give free tree advice and offer career information. On-the-ground activities include children's crafts, wood-carving demonstrations, tree planting, and honouring the winner of the Arbor Day poster contest. In 2023, that person is the ever-talented Caleb Giesbrecht from Oakenwald school!
In the spirit of Arbor Days celebrated around the world every spring, Trees Winnipeg encourages all Winnipeggers to plant a tree over our Arbor Day weekend. We recommend all newly planted trees be resilient species, such as maple, bur oak, pin cherry, birch, and apple.
Climb a Tree
Climb a tree with a pro! ISA-Certified Arborists will help you safely climb one of the large trees at the city park where Arbor Day is hosted.
Bucket truck
Get a bird's eye view of the city from waaaaay up on a bucket truck! Be an Arborist for the day!
Crafts
Wish you had a keepsake to remind you of your Arbor Day experience? You can make a tree cookie necklace in our craft tent, or other fun crafts and take home a white spruce sapling to plant in your yard.
Face Painting and Henna

Stop by for the little ones to get a tree design face painted or a Henna for yourself!
Woodcarving
We have plenty of activities that have your 2 feet planted firmly in the ground, too. Follow the buzzing of chainsaws to watch expert woodcarvers create new pieces of art.
Information Booths
Check out one of the many non-profit booths we'll have set up to learn about the different organizations and initiatives taking place in Winnipeg. We all have one thing in common: we heart trees!
Volunteer
Be a part of the day by volunteering! It's a great way to learn more about what we do, take part in a fun day and help your community!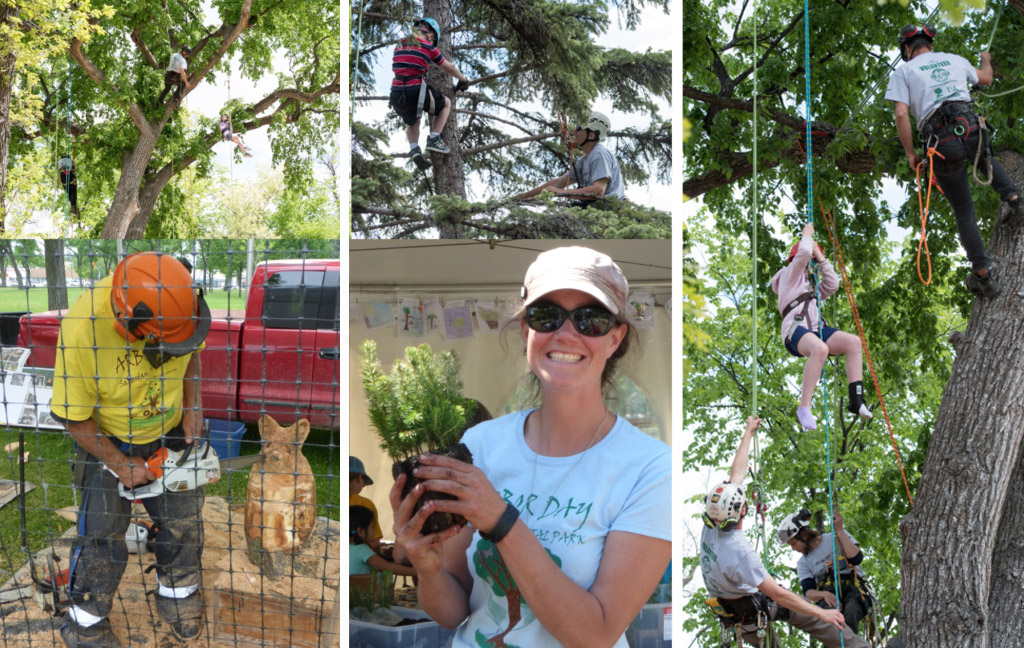 Thank you to our 2023 Volunteers!